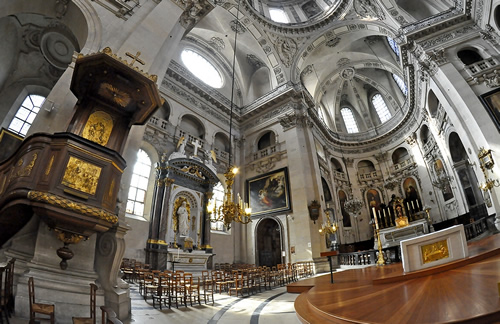 Emergence of the neighborhood in Paris
The walls of Philippe Auguste built between 1190 and 1220 upon a party land unsinkable and marked the emergence of the Marais as a district of the city. The speaker went so far as the current street gardens St. Paul where she is still visible, walked along the Rue des Rosiers, through the streets of Saint-Gervais Hospitallers, rue des Francs Bourgeois at the Crédit Municipal until 'at the Hotel de Saint Aignan ...
Streets St. Paul, King of Sicily, Vieille du Temple and the Temple date from this era. The convents of white coats, the Sainte-Croix-de-la-Bretonnerie, Carmelite-Billets And the Jewish community settled on the uninhabited areas of the Marais. Outside the precincts of the Knights Templar built a fortified enclosure (the Temple).
Emergence of the neighborhood in Paris
The fate of the Marsh will now be linked to that of the kings of France architect of its transformation.
Charles V (1338-1380) planted two centuries later the Bastille in the open swamp 500 yards from St. Paul, unsinkable limited land and was building a new wall that joined the Bastille and will cover the northern parts of the neighborhood by following the existing boulevard Beaumarchais, Filles du Calvaire and Temple. The enclosure is both wall and breakwater against the Seine. And dry areas of the marsh became open space to build.
This is the first golden age, where the Marais became a residence of kings, with Charles V at the Hotel Saint-Pol, located between rue Saint-Antoine and the Seine, and later the installation of the kings Hotel Tournelles the other side of the Rue Saint-Antoine. Followed by their courtiers, by saying "who loves me follow me" ... This time there are only few witnesses: a few walls and the Hotel de Sens - residence of the archbishops of Sens, religious teachers from the Paris of the Middle Ages.
The Marais du Grand Siecle
But before that, King Henry II was fatally wounded in a tournament, rue Saint-Antoine in 1559, and died at the hotel Tournelles. The royal family then the district subscribes to the Louvre and the Loire Valley. The hotel was abandoned and Tournelles libera and space for future royal square. "This is the lance of Montgomery who created the Place des Vosges" wrote Victor Hugo.
The second golden age of the Marais was therefore initiated by Henri IV, who built the Place Royale (Place des Vosges Fame in 1800) on the grounds of the former Hotel Tournelles.
Under Louis XIII, the Marais became fashionable and all those who had settled in Paris in the Marais.
Rue Saint-Antoine with its Hotel de Sully, Hotel de Mayenne and his church St. Paul St. Louis was then the most fashionable street in Paris.