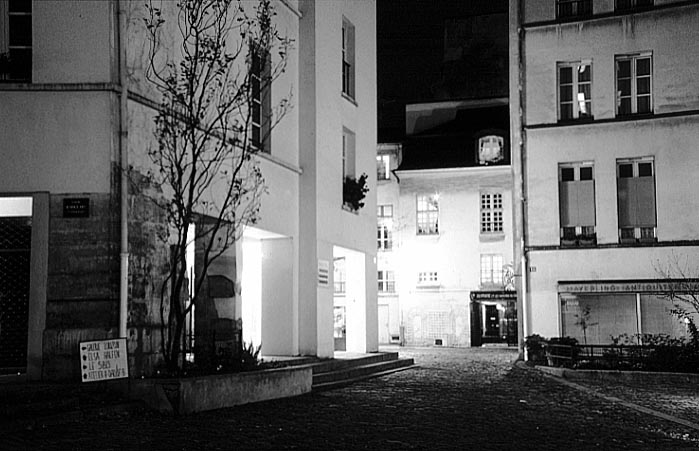 Neighborhood almost provincial charm will seduce you easily, yet the island was able to believe, before the restoration of some of its old houses slated for demolition.
But this is no longer the order of the day and a walk is needed here to cast a curious look on the charming inner courtyards, alleys and fountains, lush gardens between the street- St. Paul, St. Paul, Charlemagne and the Ave Maria.
Sixty antique dealers and artisans (potters, glass ...) have also taken possession of the premises and colorful flea markets are held four times a year.
Pole ceramic
Atelier Mire : Ceramics workshop.
Corner Shop : ceramic shop, design
La Celestine : Contemporary Ceramics Gallery
Art Gallery
Galerie Philippe Gelot : Art Gallery
Gallery Portautonome : Photo Gallery
Photo12 Gallery - Valerie-Anne Giscard d'Estaing : Photo Gallery
Binome : Photo Gallery
Museums
Museum of Curiosity and Magic
This museum, located in vaulted cellars dating from the 16th century and is very playful and will not fail to delight a young audience.
Indeed, the visit can discover interactive games, optical illusions, automata and amazing magic tricks, a little show down there every half hour.
Space offers more services to a school of magic and sleight of courses and a shop, which will supply all the little Harry Potter grass.
European House of Photography
This fascinating museum dedicated to photography since the '50s until today, displays more than 15,000 works and regularly hosts exhibitions temporaires.Les fans can view it through a video library, hundreds of films ( interviews, portraits of photographers) and have more of a reference library and an auditorium.
Fourney Library
This library specializes in decorative arts, crafts and craft techniques of fine arts and graphic arts. Many foreign books include Anglo-Saxon, Italian, Slavic and Chinese are presented.
Hotel Sully
Built in 1625 and purchased in 1634 by Sully, minister of Henry IV, Renaissance Hotel, occupied today by the Centre National Monument, is one of the most beautiful in the Marais.
Courtyard, Renaissance style, is a remarkable collection. Greeted by a beautiful carved portal, then you enter and discover facades adorned with dormers richly decorated with bas-reliefs depicting the seasons and the elements. We can also distinguish admirable sphinx and scrolls, the building has benefited from exceptional restoration.
Inside, a dramatic staircase that holds our attention and, in the bedroom of the second Duchess of Sully, great woodwork and painted ceilings.
The Orangery (commonly called the Little Sully), located in the garden, contact the hotel and, borrowing one of its doors, we can regain the Place des Vosges.
Finally, note that the ground floor of buildings occasionally hosts exhibitions of photography.
Arsenal
Located in the 14th century, the tower of Billy, belonging to the wall of Charles V, Arsenal eventually became, in addition to an ammunition magazine, a workshop for the cast iron statues of Versailles and a court in which Fouquet, grand master of artillery, was held in particular.
Now houses a library, it was Antoine-René de Voyer, minister of war, we owe this unexpected turn. Indeed, his personal collection, purchased in 1785, it was exposed, joined by those of the Prince of Soubise and the Marquis de La Valliere, before being completed, the Revolution through the archives of the Bastille. In the 19th century, places, under the authority of Charles Nodier attracted many artists, like Victor Hugo, Alfred de Musset or Alexandre Dumas.
buildings, consisting of two wings (dating respectively from 1594 and 1745), have managed to maintain their facade signed Delorme and their guns home and the library itself, home to over one million books and with unique works, including an extraordinary collection of manuscripts and rare books with miniatures.
Can also admire, on the floor, the apartments of Madame de la Meilleraye, and discover some remarkable pictures of Simon Vouet.
Square de l'Ile de France - Memorial of the Deportation
This place opened in 1956 awaits a permanent exhibition dealing with the Holocaust, a term denoting extermination by Nazi Germany three-quarters of Europe's Jews during the Second World War.
Evoked through numerous texts, documents, posters, photographs and personal letters, this dark page in our history deserves a family visit, so it is important that the message of peace to be transmitted to younger generations. The memorial in this work, asking children ages 8 to 12 a course specially tailored to their age and sensibility.
Under the square, an endless flame lights the crypt of the tomb of the Unknown Jewish Martyr and the Monument, a cylinder is engraved with the names of all who saw concentration camps of Jews perished. The wall of names, since 2005 for those of 76,000 French Jews deported during World War II, completes this grim list since 2000, the Avenue of the Righteous honors the men and women who had the courage help their countrymen, sometimes saving them from certain death.